"Constructing the Future of America"
Our Vision:
Our corporate vision and commitment is to be a valuable partner in the growth and success of each of our clients. We achieve this by providing a broad range of effective construction solutions integrated with the finest personal service and support available in the marketplace. We are dedicated to establishing and growing profitable, long-term relationships which are mutually beneficial.
Ownership Bio: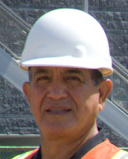 Manny Montanez
Manny Montanez is the President and CEO of EG Montanez Construction, Inc., an Irvine, CA based General Contractor. EG Montanez Construction's target market focus is centered in delivering quality and safety-first general contracting services to the Federal Government, all military installations including Veteran Administration hospitals and clinics in California and western U.S.
Click for full bio...
Our Principles:
We believe that EG Montanez Construction, and each of us working within it, has an absolute and ongoing obligation to treat others as we desire to be treated; always working diligently to provide services rooted in integrity with a great sense of justice and fair-dealing, coupled with a level of professionalism which rises far above the ordinary.

We believe that, since we have been granted an opportunity to have a positive influence in the general construction community, each of us must accept personal responsibility to perform our work ethically, seeking to always be among the leaders within our industry in setting standards which others will admire and perhaps choose to emulate.

We believe that each individual has a personal responsibility and obligation to be productive and to contribute to his/her personal and professional environment at a level commensurate with the physical, emotional and spiritual gifts which each has received.

We believe that primary human rights such as life with dignity, personal freedom and the pursuit of individual happiness have been endowed to each of us by our Creator.

We believe that families are the primary foundation of our national character and, therefore, that our Company should foster a work environment which encourages and promotes each individual to aspire to a higher level of personal commitment and loyalty both in work and in inter-personal relationships.

We further believe that this contributes to growing harmonious relationships within the workplace which may, in turn, help to inspire more peaceful relationships within each family environment.
Contractor's License Info:
B-940113
Certifications:
State of California
- DVBE (Disabled Veteran Business Enterprise) # 1035602
- MBE (Minority Business Enterprise) # 7756
- CPUC/MBE (California Public Utilities Commission) #1007A017 - (Minority Business Enterprise) #7756
- SBE (California State certified Small Business Enterprise
- LA County/CBE #84589
Federal Government
- SDVOSB (Service Disabled Veteran Owned Small Business)